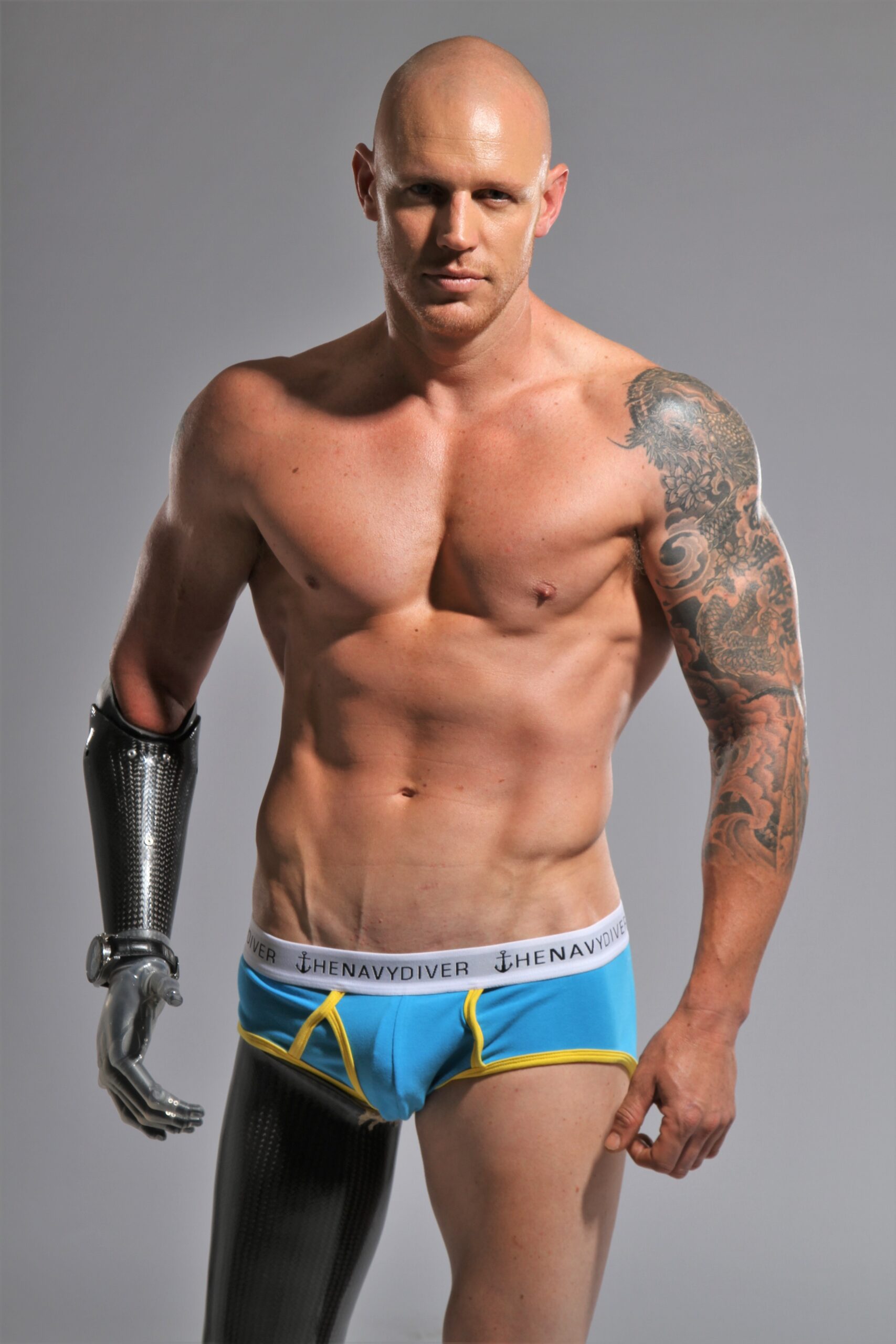 Paul de Gelder: Navy diver, shark attack survivor, smoking hot swimwear model
Written by Frockwriter, Patty Huntington.
Tuesday, November 29, 2011
Aimee Mullins meet Paul de Gelder. Much has been written – and broadcast – about de Gelder's near brush with death on February 11, 2009, when the then 31 year-old Royal Australian Navy clearance diver and former paratrooper and East Timor peacekeeper came face-to-face with a three metre bull shark, which savaged his right hand and leg. A double amputation, extensive rehabilitation and two years later, de Gelder is back at work as a Royal Australian Navy diver trainer, with several brand new spinoff careers, including motivational speaker and conservationist, who has called on the United Nations to protect sharks from over fishing. Earlier this year he also became a published author, with the release of No time for fear: How a shark attack survivor beat the odds. But de Gelder has another new career that's a little less well-documented: fashion model. To be precise, underwear and swimwear model for new Sydney-based brand The Navy Diver.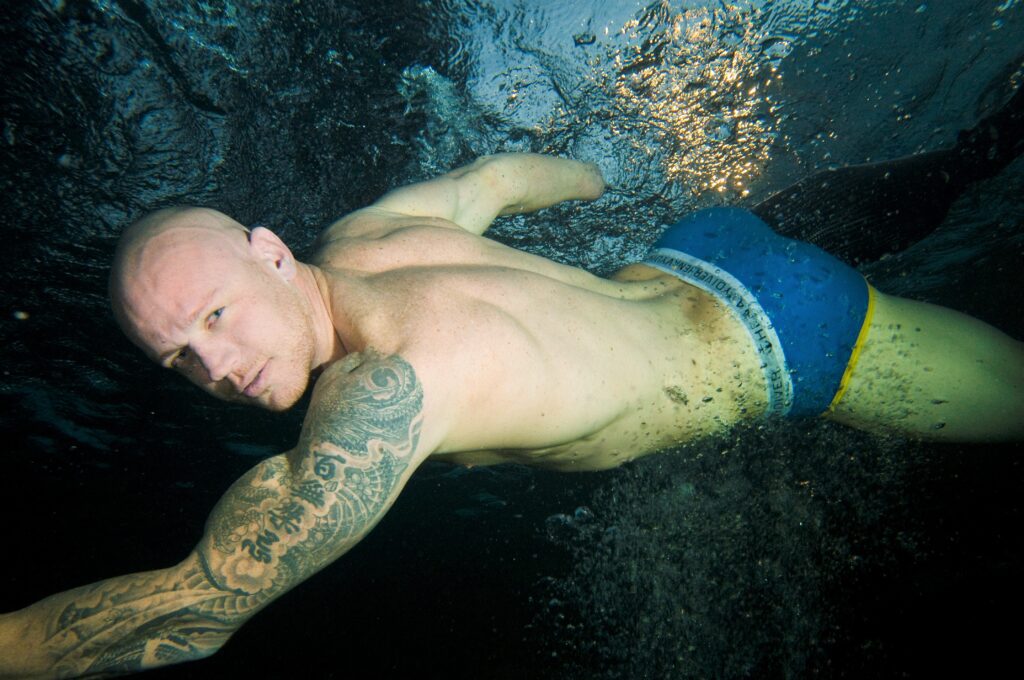 No, the brand was not named after de Gelder.
Founder Michael C was already mates with several other RAN divers at the time he met de Gelder and in fact they introduced the pair. Michael was immediately impressed with de Gelder's charisma.
"I was with Paul the week before he got attacked and this guy could walk into a room and charm everyone, he was just so fit and audacious, that alone captivated me" says Michael, who launched The Navy Diver in November 2010 as an underwear range, adding a swimwear collection to the mix two months ago. "After seeing him go through the attack and seeing even more tenacity afterwards, I felt like Paul stepped up to the challenge, almost in a way that I don't think a lot of people could. As soon as I saw Paul in prosthetics, I thought, it's time the world starts to appreciate someone with an acquired disability, who has prosthetics and who can still look sexy and hot. He's almost half man, half machine".

Michael's promotional imagery includes shots of de Gelder both with and without his prostheses. Above and below is a series of campaign images shot to promote the new swimwear range, sans artifical hand. De Gelder's carbon fibre and black plastic robot hand – called an 'eye limb' – can be seen in some of the underwear shots on The Navy Diver website.
Michael has even cranked up the 'man/machine' idea for the welcome page of his website, with an enhanced photo-illustration of de Gelder as a cyborg: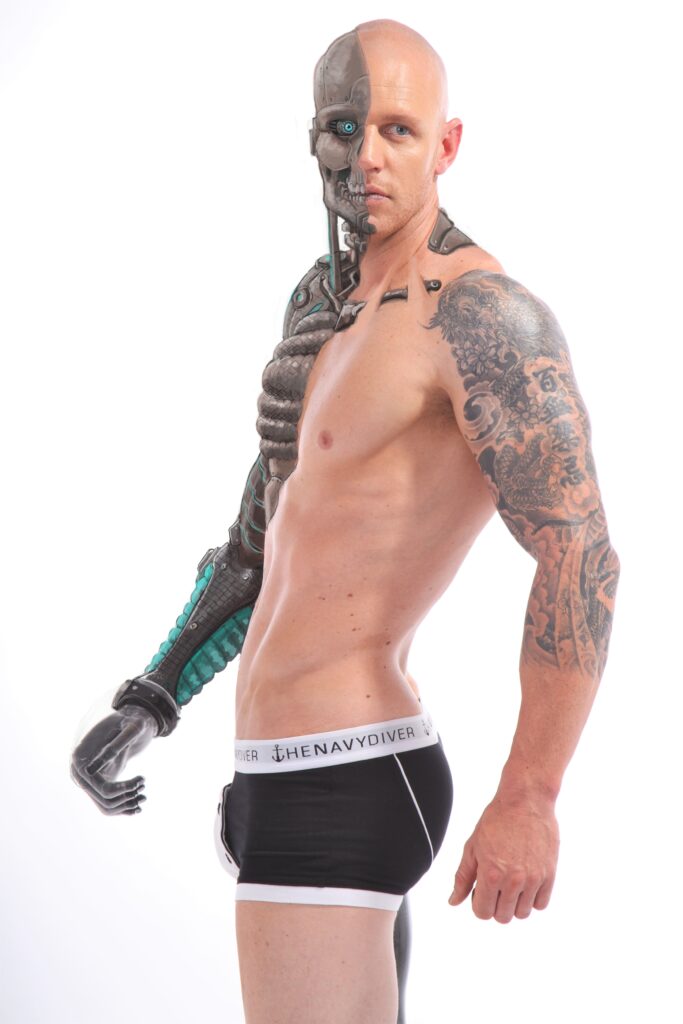 De Gelder is pretty comfortable with the cyborg idea. In fact 'The Terminator' title of the ABC Australian Story profile which aired earlier this year comes from an anecdote recounted by de Gelder in the interview, regarding an exchange with his plastic surgeon Dr Kevin Ho shortly after the shark attack. When Ho announced that de Gelder's badly-mauled right leg would have to be amputated below the knee, de Gelder told Ho, "Doc, take it. Make me a Terminator."
It's not the first time that a model with prosthetics has come to the attention of the fashion world. Many would recall Aimee Mullins, a double amputee and Paralympian, who attracted considerable attention after appearing in Alexander McQueen's Spring/Summer 1999 show, wearing a pair of hand-carved wooden legs.
Women and men with any kind of physical disability are, however, extremely rare in modelling.
At a time when many in de Gelder's situation would most likely have been feeling extraordinarily self-conscious, what prompted him to become an underwear model?
"When Mickey initially told me about his dream to do the Navy Diver underwear, and his desire to have me as one of his models I nearly choked on the food I was eating" de Gelder told frockwriter. "I thought, you've got to be kidding. Who's going to want to see some skinny bloke with one hand and one leg in their jocks? The passion to fulfill his dream though was very evident and as time went on he began to sway me. I really enjoy helping people, especially my friends. My public profile had increased a bit and I figured that if I could give him any sort of boost then it really would be the right thing to do. Although I was very nervous. It was one of those opportunities which, if you passed it up, you might kick yourself later. Plus I really enjoy getting out of my comfort zone because those are the times where you learn the most about yourself and what you're actually capable of. Whether it's fast-roping 90ft out of a helicopter, diving 60m beneath the ocean or holding your breath and doing ridiculous-feeling poses underwater in front of a camera. It's all about experiencing and embracing opportunities.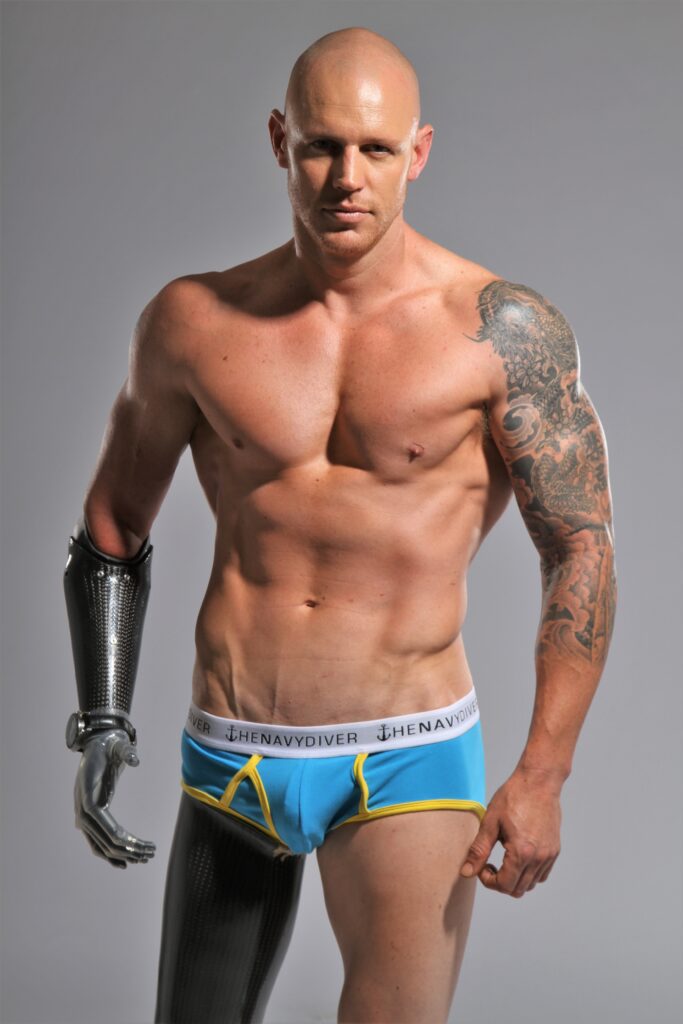 "I can honestly say that I'm no model and no I've never done any modelling before. I really just tried to have some fun with it and hope I didn't look too silly. I'm doing so many things at this point in my life, from public speaking, to visiting children's hospitals, to addressing delegates from the UN in New York on conservation, that underwear modelling really didn't seem that far fetched. Just a lot scarier. The fact that afterwards when all the pictures came out and peoples' comments were so flattering and so nice, really made me feel better about the way my body had become. I train very hard for my work as a navy diver but I would never class myself as someone who would be considered for modelling. I'm not one of "the beautiful people" [laughs]. I'm just a normal guy.

"I've never really considered the internal politics of the modelling world, I guess as I've never been a part of it" he added. "I think it's like any job: some people are more suited to it than others but beauty is, as we know, in the eye of the beholder. It can't be an easy job catering to every person's desires of what is aesthetically pleasing. Colour, creed or disability though, I don't think anyone should believe that they can't be or do anything that they want. The cold hard fact is however that life can be really tough and people have the capacity to be mean. So what! People overcome adversity and beat the odds every day. Oscar Pistorius, the runner from South Africa with no legs; Jessica Watson the teenager who circumnavigated the globe by herself; an army friend of mine who was in a helicopter crash in Afghanistan… he broke his back and several other bones but now kick boxes competitively. We are all more capable than we give ourselves credit for. If I had walked into a modelling agency with one hand and a prosthetic leg, I'd probably be looked at like 'Is this guy taking the piss?' I don't even have a modelling agent now but through circumstances outside of my control and a willingness to be open to experiences I ended up modelling in my underwear in magazines and websites around the world. So who's to say something can't be done?"